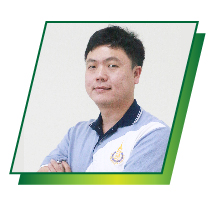 Dr.Ekwipoo Kalkornsurapranee,
Assistant Professor of Department of Material Science and Technology, Faculty of Science, Prince of Songkla University
Topic: Rubber 4.0: Challenges and Opportunities of Natural Rubber for Innovative Applications and Futures Approach
Dr. Ekwipoo Kalkornsurapranee received Ph.D. degree (Polymer Technology) in 2012 from Prince of Songkla University, Pattani, Thailand. In 2013, he become a member of sciences' faculty as lecturer in Prince of Songkla University, Hat-Yai, Thailand and 2015, he become an Assistant Professor. Since 2016, he has been deputy director of natural rubber innovation research institute (NR-IRI). He published more than 20 scientific papers and granted more than 20 patents in Thailand. His current scientific research interests to extent the performances of natural rubber include thermoplastic natural rubbers' development, natural rubbers' modification and vulcanization. He also have ongoing develops which include transdermal patch, slow releasing material, tracing thermoplastic made from natural rubber for medical, agricultural and forensic applications, respectively.